Success Stories
The Passaic Junior Optimist Club has positively impacted countless lives of the young people who have traveled through our program. Their experiences and the skills and strengths they developed have proven invaluable as they have moved on from high school, many through college and all into their careers. By impacting young lives today, we are building for a brighter future.
Franklin Tapia
Franklin Tapia grew up in a single-parent, low-income household. On the streets of Passaic, he was surrounded by drugs and violence – "Things that at the time seemed normal to me" – and as a boy actually aspired to become a drug dealer because "they were the only people who had money." Then Franklin joined the Junior Optimist Club, where he discovered and power of mentoring that changed his life – and his life outlook.
"It's invaluable. I wouldn't trade the people in this group for the world. Jim Malisse has been a father to me. I know I have someone I can still reach out to who can help me make decisions. I try to pay that forward. I have mentees I try to help the way I was helped."
In his senior year the Passaic Optimist Foundation awarded Franklin a Harold Ferguson Scholarship for student athletics, which he used to help pay for his college education at The College of New Jersey, where he earned a Bachelor's degree in Interdisciplinary Business before moving on to the University of Arkansas, where he earned his MBA in Logistics, Materials and Supply Chain Management. His first career position was as a CPFR Analyst-Walmart Account at Johnson and Johnson in Rogers, Arkansas. Now he is a manager in Transportation Analytics for L'Oreal Paris in New York City. In addition, he and his wife, Jessica Crocco, co-founded a new product called, electriCOCO, a coconut water spirits mixer. Franklin considers his time in the Junior Optimist Club and the Harold Ferguson Scholarship to have been formative in helping to create the path that led to where he is today.
"There was a different level of connectivity than with other scholarships. It wasn't just someone handing over money. There is a level of commitment to make sure the recipients are successful. It's a never-ending relationship that's created, which goes well beyond graduation."
Zahra Janoowalla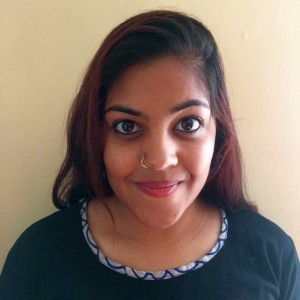 Zahra Janoowalla came to Passaic from Kenya when she was in first grade. She lived in an apartment building and loved the sense of community. She also gravitated to community service early in life. So joining the Junior Optimist Club as a freshman at Passaic High School was natural for Zahra. She loved the community outreach – especially the Gift of Giving, one of three trips each year to visit less fortunate children.
"There was a lot of positivity in the club. I loved that it was facilitated by Mr. (Daniel) Sheridan but run by us. We decided what we wanted to do and ran all the events. The club is about working together and achieving goals, working as a team. It was the first place I stepped up as a leader. And it was a very safe place where you could say anything without being shy. It made me a more vocal person. The Optimist Club made me feel if there was something I wanted to do, I could."
That growth and learning, combined with Zahra's natural positive nature, has served her well. A 4.0 student in high school, she was an Optimist Scholar of the Year, for which she received a scholarship for college from the Passaic Optimist Club. She earned a Bachelor of Arts degree in Biology from Rutgers University in 2015 and a Masters in Public Health from Columbia University in 2017.  During this time she worked as a camp counselor at Camp Holiday Trails, a camp for children with special needs, in Charlottesville, VA and as a leadership counselor for Rotary International. After graduation, Zahra worked for another camp for children with chronic illnesses, called The Hole in the Wall Gang Camp, where she brought the joy and fun of summer camp to children in hospitals throughout NY and NJ. She recently moved to Salem, MA where she plans to put her MPH to use by working with children and their families in the health care services sector domestically, before moving on to do public health work internationally.
"I want to open women's clinics abroad. Go to different countries, open a clinic, then move on. I definitely want to open a clinic in Kenya."
Jonathan Mitchell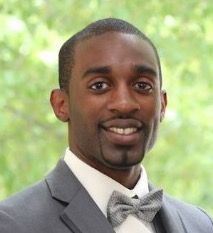 Jonathan Mitchell grew up in Passaic, the son of a mother born in Jamaica and a father born in Trinidad. In high school he tried to keep himself busy and was a member of a few clubs when he was drawn to the Junior Optimist Club.
"Everyone was so helpful. You could see how much they wanted to see all of us succeed. I really liked the community part. It felt good to be out there helping people who may not have been in the same position I was in or just needed help. I tried to continue that in college. The club gave me a better perspective on life. It opened my eyes to what I could be and how I could help out other people. It gave me a better attitude."
In his senior year in high school the Passaic Optimist Club awarded Jonathan the Harold Ferguson Scholarship for student athletes – he excelled in football at Passaic High School – which he used to help pay for his college education at NJIT. While in college he served as president of Caribso, the Caribbean Student Organization, and was a member of the National Society of Black Engineers. Today he is a Senior IT Quality Analyst at UnitedHealth Group in Paterson and has found that his time in the Junior Optimist Club is still proving beneficial.
"I learned how to effectively communicate with people and that definitely helped me out in a professional setting. I'm constantly working with other teams and what I learned in the club has helped me better communicate with them."
Catherine Sposato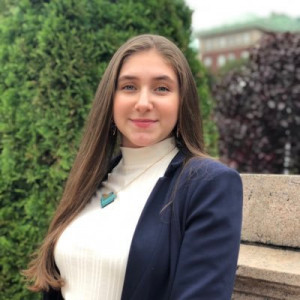 Cat Sposato is a Latina NYC/NJ-based activist who has done work for First-Generation Low-Income communities both on campus at Columbia University and in her hometown of Passaic, New Jersey. At Columbia, she is majoring in Political Science with a concentration in American Politics and Political Theory. She is passionate about the intersections of politics and the media, with a focus on democratizing access to political information for low-income, non-English speakers within the United States. Cat is exceptionally passionate about critical theory and issues of justice, including prison abolition, education reform, voting rights, and just media practices. Cat is working on pursuing a job in public radio and aspires to work at NPR after she goes to graduate school to pursue a dual degree program in Law and Journalism.
In her extracurricular endeavors, Cat is a co-chair of the Bridge2Brilliance program, which works with low-income middle and high school students from communities in the New York City area to bring them on tours of the Columbia campus. This will connect them with students from similar backgrounds to deliver insight on their experiences as low-income first-generation students navigating an Ivy League institution. Additionally, she is also a representative on Columbia's inaugural First Generation Student Advisory Board, an administrative group that works to advocate for the needs of First-Generation Low-Income students on campus, through policy work.
In addition, Cat is on the Columbia First-Generation Low Income Partnership's executive board, where she serves as Press Corps Communications Director. Off-campus, she is a First-Generation Low Income Partnership National Fellow, where she is working on expanding the nonprofit to increase accessibility to resources for first-generation, low-income college students throughout the country. She is also an Educational Advisor for the Columbia Center for Justice's inaugural Justice Ambassadors program, and a mentor for Columbia's chapter of Young Storytellers. In her spare time, Cat works on her podcast PRIMEROSAS, which explores the intersection of being a first-generation, low-income college student, Latinx, and first-generation American, that can be accessed at this website http://www.wbar.org/shows/S19/Primerosas/. She also works with her mentor Bernard Harcourt, the Isidor and Seville Sulzbacher Professor of Law and Professor of Political Science at Columbia University, on projects surrounding social justice and legal work.
Cat was recently featured in Glamour Magazine's 2020 College Women of the Year!
https://www.glamour.com/story/meet-glamours-2020-college-women-of-the-year/amp?__twitter_impression=true
Julia Troisi

Julia Troisi is currently a senior at the University of Montana. She is double majoring in Anthropology, Central Southwest and Asian Studies with a concentration in Cultural and Ethnic Diversity and a minor in Arabic. In addition, in her junior year, she contracted as a Cadet in the Army ROTC program at the University of Montana's Grizzly Battalion. Throughout the past two years, Julia has maintained a part-time work-study position at the Davidson Honors College. She has realized that each year gets more expensive than the last and, with her course load, it gets harder to maintain any kind of steady income. The Harold Ferguson Scholarship has afforded her the opportunity to maintain part-time work hours while allowing her to focus on her studies and personal well-being as opposed to worrying about some expenses such as groceries, internet costs, school supplies and even travel expenses.
"I know that if it was not for the Optimist scholarship, finances would have been very tight, and I am truly very grateful for the continued renewal of this scholarship over the last 3 years. The Harold Ferguson Scholarship made all the difference to me and I truly appreciate the Optimist Scholarship Foundation for giving me this opportunity."